We are honored that you are here educating yourself on this very important decision.
More than just Puppies for Sale, these are Family Members!
Here at the Labradoodle Corral, we understand your puppy is not just a pet – it's a member of your family! We've chosen to breed Australian Labradoodles in Hartford, Wisconsin because of all the wonderful traits these dogs have come to be known for. Australian Labradoodles are good with children and are easy to train. They get along great with other dogs. They are extremely clever, sociable and joyful, and quick to learn unusual or special tasks. Active, a little comical at times, Australian Labrodoodles will attempt to outsmart their owner if undisciplined. It is very important that you are this dog's firm but calm, consistent pack leader and provide him/her with daily mental and physical exercise. Friendly and very loyal to their own family, these dogs are non-aggressive.
Australian Labradoodle Sizes:
Micro: 12"-14" at shoulder. Weight: 8-14 lbs.
Mini: 14"-16" at shoulder. Weight: 16-25 lbs.
Small-Mediums: Female, 17" – 19" at shoulder. Male, 19"-20". Weight: 30-40 lbs.
Standards: Female, 21"-23" at shoulder. Male, 22"-24". Weight: 50-65 lbs.
Whatever size you're looking for, we've got it.
Adopt a Labradoodle Puppy from the Wisconsin Breeder You Can Trust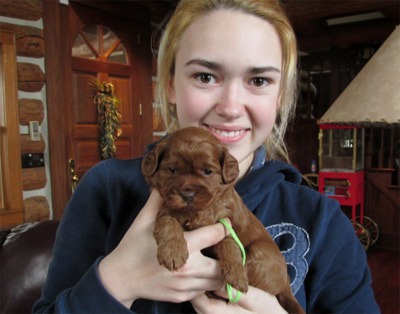 Based in the Midwest, our Labradoodle puppies are home raised right here on the ranch with plenty of love, care and exercise. We have 16 acres in southeastern Wisconsin with woods, fields and horses. Beginning at a young age we socialize our puppies with children and other pets to ensure they have a well-rounded temperament and are family-ready when they come home. They get car rides, are held every day, receive beginning training to stay close, come when they are called and are litter and crate trained for you. They will be able to walk up and down steps, have received sound training (thunder, horns, vacuum, hair dryer, fireworks, door bells, etc.) We listen carefully to your family's story and match you with an adopted puppy best suited for your unique lifestyle and personality. At the Labradoodle Corral we take breeding very seriously and strive for the betterment of the Australian Labradoodle breed. All of our breeding dogs are meticulously selected to ensure the highest quality of puppies for their forever home.
Proudly Serving:
Milwaukee, Madison, Racine, Kenosha, Waukesha, Chicago, Wisconsin, Illinois, the Midwest, and pretty much everywhere! Live further? Give us a call.
Quick story: We gave 2 of our 6 month old pups a chew treat. When pup 1 was finished with hers, she tried to get the treat away from pup 2. After 10 minutes of relentless trying, pup 1 was still not successful. So she went over by the door and rang the bell to go outside. When I got up and opened the door, pup 2 got up and went outside. Pup 1 walked over and successfully picked up the sought after chew toy. True story. Active and quite comical, they are a treat to be around. It is very important that you are this dog's firm but calm, consistent pack leader and provide them with daily mental and physical exercise. Friendly and very loyal to its family, these dogs are very social and non-aggressive. We call them 'muppets with motors'. They are pure joy to have as a companion and you will wonder how you ever got along without one.
Contact the premier Wisconsin Labradoodle breeder today to find out about our available Australian Labradoodle puppies.
About Our Australian Labradoodles and their origin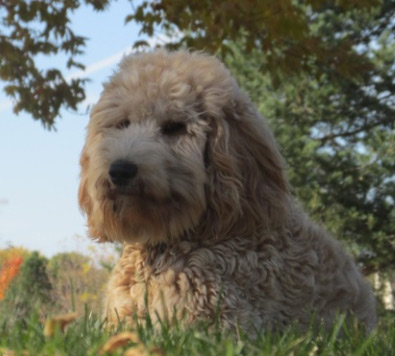 This classic example of logical and planned crossbreeding was created in the country of Australia in the 1980s. The goal of the Australian clubs is to create a new "breed" with the best attributes of the original breeds. The original objective was to produce assistance dogs that do not shed hair (for people with allergies). Australian Labradoodle guide dogs have been successfully trained and placed in Australia and Hawaii, but as yet the non-shedding characteristic of the Standard Poodle has not become a fixed 100% attribute.
The Australian Labradoodle started out as a simple cross between the Labrador Retriever and Standard Poodle or Miniature Poodle and is still widely the case in North America. Australians, on the other hand, have taken the Labradoodle a few steps further. In mid-2004 it was announced that the Australian Labradoodle was not just a Labrador x Poodle cross, but was a breed in its own right developed over many years with particular goals in mind. To accomplish these goals, further development was done with parent breed infusions added to the already blooming Labrador x Poodle cross lines. The developers of the breed sought out the best way in which to compliment the Australian Labradoodle breed, and to develop the authentic qualities that they find and love in these dogs.
In 1997 the very first Australian Labradoodle Breed Standard was written which reflected these goals. The Australian Labradoodle currently consists of 6 different breeds in its origin. The confirmed and approved parent breeds of the Australian Labradoodle are the Poodle: Standard, Miniature, Toy, Labrador Retriever, Irish Water Spaniel, Curly Coat Retriever, American Cocker Spaniel and English Cocker Spaniel.
We truly believe our Australian Labradoodles are the best dog available and will make a great addition to your family.
Conveniently located between Milwaukee, Madison and Chicago, we are here to help puppies find their forever home with your family.
For more information on Australian Labradoodles contact the Midwest based Labradoodle experts at the Labradoodle Corral. State of Wisconsin License number: 403341-DS