Are There Health Problems Common In Australian Labradoodles?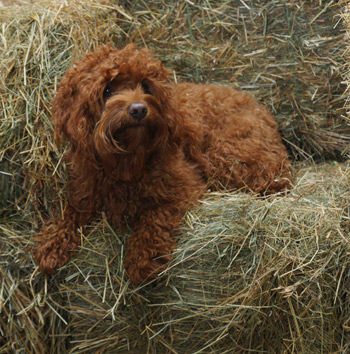 Because they have floppy ears, Australian Labradoodles are prone to ear infections which are easily preventable with regular cleaning. Australian Labradoodles are generally considered very healthy dogs. At the Labradoodle Corral, located in southeastern Wisconsin near Madison, our breeding program tests for common and uncommon genetic issues to ensure we breed the best of the best. That is why we are able to provide a 2 year health warranty.
Do Australian Labradoodles Like Water?
The vast majority of them love to swim and many families enjoy taking them boating and swimming in all bodies of water. They will often play in water wherever they can find it: paddling in their water bowls, splashing water all over the kitchen floor, making a game of the garden sprinklers, and playing in puddles. You have to be careful introducing them to water, though. If you do not let them discover it naturally and force them in a pool for instance, they can become scared of it due to the situation.
The Labradoodle Corral offers a full selection of Labradoodles for sale. Simply have a look and find your new best friend.
Contact the Labradoodle breeders in the Midwest at Labradoodle Corral for information regarding puppies and water.