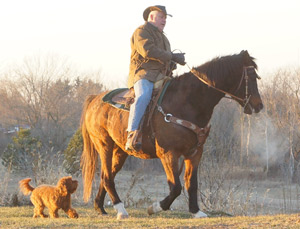 One of my biggest achievements in life was to talk my wife Wendy into marrying me on a beach in Puerto Vallarta in 1999 on Valentines day. Our daughter, Sydney, was born in 2000 and she is as busy with this business as we are. I (Jeff) also have a great son, Tavian from a previous marriage. We are fortunate enough to live in a quiet farming community just south of Hartford, WI in a small town called Erin. Located in the Midwest, we attract dog lovers/owners from our surrounding states of Michigan, Illinois, Iowa, Minnesota, Indiana, Ohio, Tennesee, Kansas, Missouri, North and South Dakota and of course, Wisconsin. These areas are close enough for people to drive in a day or break it up with an overnight to bring their friend back to its forever home. Farther away? Consider a flight in and take your puppy back with you in coach or we could personally bring your puppy out to you.
Australian Labradoodle Breeder Beginings
I have been around dogs my whole life. One of 8 children, my family raised pure bred Collies to help make ends meet. There was always a litter of puppies around our house. At 11, I secured a job at a Kennel a few miles down the road. I fed, watered and groomed the dogs and kept their homes clean. By 13, I was showing dogs in competitions. I now have 40 years of dog training experience. So after a 30 year professional career in health care, deciding to migrate back into the canine world was a natural fit for our family, and choosing the Australian Labradoodle breed was a no-brainer. Have a look at our puppies on our Facebook page here.
You can always give us a call at 262-327-0970 or you can contact the Wisconsin Australian Labradoodle breeders for more information.